arlin B20-A/G/R jumper bridge bars for S12 interface relay coils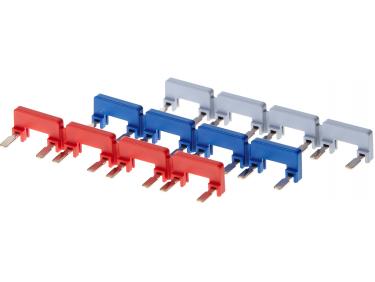 Picture shown is a representation only.
Accessories - Jumper Bars for Interface Relays
Power Bridge bars for S10-M and S12 sockets
V40 bridges join four similar points in four adjacent sockets. They can join up either among themselves or to V10 bridges, to bridge any number of S10-M and S12 sockets in any combination.
V10 bridges are jumper link bars to connect a single socket to the next one. Made of copper with a current carrying capacity of 40 A.
Coil Bridge bars for S10-M and S12 sockets
B20 jumper bars bridge the A2 points, internally connected, of every adjacent S10-M or S12 socket.
Each element connects point 6 of the first socket to point 5 of the next one, alway leaving free the point 5 of the first socket and the point 6 of the last one, connect the common polarity cable.
SCROLL DOWN & SELECT PART NUMBER
Purchase items here
QTY

*

PART No.
DESCRIPTION