arlin 554-ESD storage cabinet for protection of esd components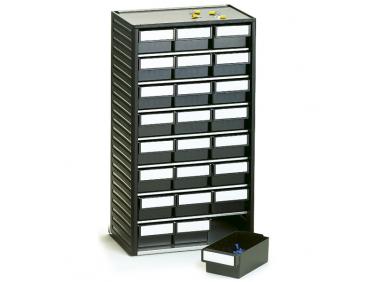 Picture shown is a representation only.
ESD Storage Cabinet 550-ESD Series
ESD storage cabinets for the protection of ESD (electrostatic sensitive device) electronic components. Durable design with practical accessories to provide flexible and efficient ESD protected storage.
Tough polypropylene outer case
Black semiconductive drawers
Galvanised steel shelves
Corrugated bases on drawers - easy picking of small components
Wall mountable, or assemble on a space-saving turntable
Cabinet dimensions:
D x W x H: 180 x 310 x 550 mm
SCROLL DOWN & SELECT PART NUMBER


Purchase items here
QTY

*

PART No.
DESCRIPTION
Drawer Sizes
DRAWER SIZES: DxWxH:
L-01: 175x69x37
L-04: 175x92x59
Additional Information
Arlin Storage Systems
The Arlin Storage Systems range is new to the electronics market, with numerous innovative benefits. Component parts are organized into separate drawers and compartments within the storage cabinets, making production and design areas organized and efficient. The 'Arlin Storage Systems' multi-drawer unit range features:
Crystal-clear drawers for easy visual identification of contents
Corrugated / ripple based drawers for easy retrieval of small components
Combination drawer options for maximum efficiency
ESD (Anti static) semi conductive storage units
The range also includes turntable 'Spacemiser' frames allowing 1000 different components to be stored within arm's reach taking minimal floor space. The Arlin compact Storage Turntables feature:
Ball bearing swivel base
400 and 800 kg load ratings
Up to 720 drawers and 4,320 separate compartments in one Turntable
ESD (Anti static) semi conductive storage unit frame
Arlin has a wide selection of these component storage systems available, with demo units on hand for customers to view. Contact Arlin for options.