arlin CMS-10 smart sms relay with antenna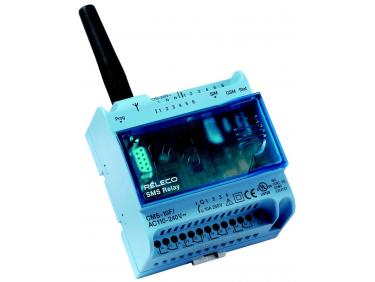 Picture shown is a representation only.
SMS Relay - Automation Remote Monitoring & Control Relay
A true innovative leader, the SMS Relay provides endless monitoring and control possibilities to the automation industry. Utilising worldwide mobile networks, the SMS relay takes 6 incoming signals (analogue or digital/binary), sending out an SMS and/or email up to 5 different contacts when an input is activated to a desired voltage threshold. With 4 change-over relay outputs, the SMS Relay will accept an SMS command sent from an authorised user to switch a desired output on or off. See additional information at bottom of this page.
Six inputs for sensors, transducers, switches
SMS and email out upon input activation
4 C/O outputs 5A 250V
SMS in to control / command output switching
SCROLL DOWN & SELECT PART NUMBER
Purchase items here
QTY

*

PART No.
DESCRIPTION
Additional Information
Download PDF data here
INPUTS – BINARY OR ANALOGUE
Digital (binary) inputs
Trigger voltage 9.5V DC / 85V AC
Analogue inputs
Select 0 – 10 V or 4 – 20 mA.
Selectable units, eg. l, kg, m3, psi, F, sqm, lbs.
Any min/max value can be defined. Scale adjustment automatic.
Automatic alerting if min/max values are exceeded.
COMMUNICATION
Operates on 2G and GSM networks
Internal contacts list – mobile phone and email addresses.
Alarm message sent to (max) 5 contacts on input activation/high, by SMS or email.
Second message sent upon normal input state being reached again.
Periodic status reporting for data log.
SMS into device to enquire input & output status from any recognized phone number.
SMS into device to control & switch outputs any recognized phone number.
App for Android operated smartphones.
OUTPUTS – ELECTROMECHANICAL
Four C/O relay outputs
Controlled remotely by SMS
Rated 250V, 5A
EASY CONFIGURATION SOFTWARE
Simple Windows based software
Set device name & details
Set all custom messages
Set all analogue input threasholds
Add contacts details
Label inputs and outputs
Set desired output control messages
Programmable by remoted control using a GSM modem
Supplied on disk and downloadable