arlin 1640-5 storage bin cabinet 16 drawers red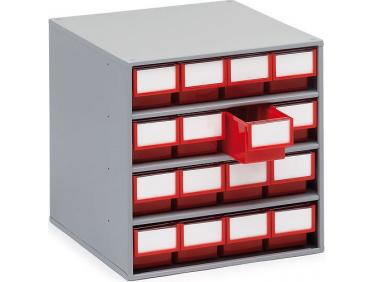 Picture shown is a representation only.
Storage Bin Cabinet, Metal Frame 400mm Drawers
These storage bin cabinets are avaliable in a range of sizes and combinations for storing components and larger pieces of equipment. They can be wall hung, stacked in columns or mounted on a turntable, and provide high quality storage for any technical, manufacturing or industrial environment.The frames are built from tough epoxy enamelled steel.
The bins come in a range of sizes. They are avaliable in bright blue, red or clear. The storage bins' contents can be quickly identifed using lables with the protective shields.
Accessories Avaliable: Cross Dividers and Retaining Bars
SCROLL DOWN & SELECT PART NUMBER
Purchase items here
QTY

*

PART No.
DESCRIPTION