arlin 16-300 storage bin cabinet turntable carousel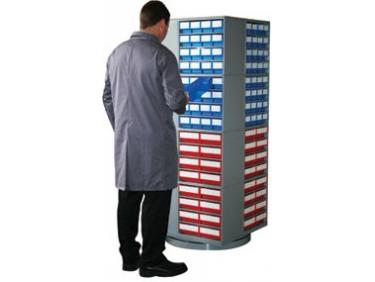 Picture shown is a representation only.
Storage Bin Cabinet Turntable 16-300
This storage bin cabinet turntable is a compact storage system that is great for use in service, workshop, production and storage areas. Bin cabinet turntables offer storage for up to 1792 different items on a floor area of only 0.64sqm! The unit includes a ball bearing base and dividing trays for four layers. Each layer holds four cabinets. Order cabinets separately.
This unit holds 16 bin cabinets of 300mm depth.
Load capacity 800kg
Complete Assembly DxWxH: 700x700x1680mm
SCROLL DOWN & SELECT PART NUMBER
Purchase items here
QTY

*

PART No.
DESCRIPTION