arlin 16-400 storage bin cabinet turntable carousel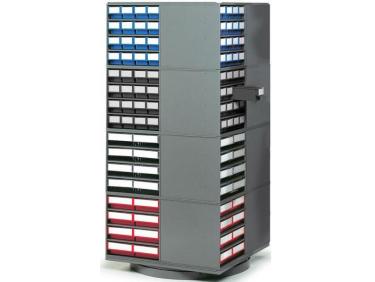 Picture shown is a representation only.
Storage Bin Cabinet Turntable 16-400
This storage bin cabinet turntable is a compact storage system that is great for use in service, workshop, production and storage areas. Bin cabinet turntables offer storage for up to 1792 different items on a floor area of only 0.64spm! The unit includes a ball bearing base and dividing trays for four layers. Each layer can accept four cabinets.
This unit holds 16 storage bin cabinets of 400mm depth.
Note: cabinets are to be ordered separately, 0840 or 1640 series.
Load Capacity: 800kg
D x W x H: 800 x 800 x 1680 mm
SCROLL DOWN & SELECT PART NUMBER

Purchase items here
QTY

*

PART No.
DESCRIPTION
Additional Information
How to Order:
Add 1 of this product (16-400) to your basket
Go to Storage Bin Cabinets page - find under related products, or at this link
Add 16 of these cabinets to your basket, choosing cabinets with drawer sizes and colours to suit your application
Proceed with your enquiry/order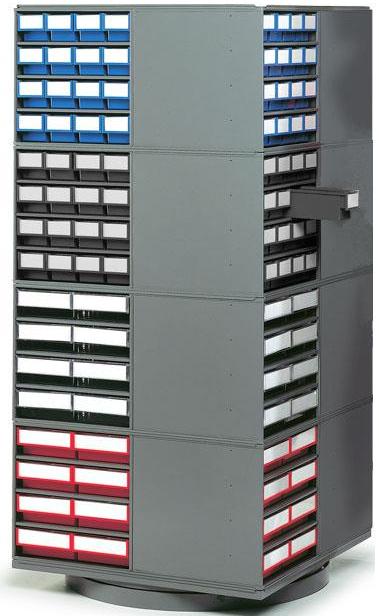 The ultimate in workshop component storage, the Arlin 16-400 holds the potential to revolutionise workshops, production floors, and R&D departments across manufacturing and engineering industries. Made in Finland, these high quality Treston storage cabinet turntables are a compact storage system for sorting, storing and arranging up to 1,792 different component parts on a floor area of only 0.64 sqm. When wall space is limited, the 16-400 is a huge space saver. Strong, study, and durable, the 16-400 has an incredible load capacity of 800 kg.
Order your 16-400 turntable assembly today, knowing that you're choosing a tried, and proven, long-term storage solution.