arlin AF-10MR BoxX controller programmable smart relay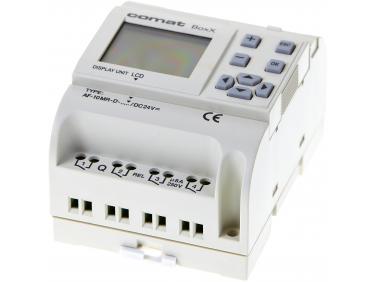 Picture shown is a representation only.
Programmable Automation Smart Relay 'BoxX' AF-10MR
Miniature smart relay automation PLC controller (with voice module)
Programming via PC
Remote controlling and voice message over telephone network
Comprehensive function block library
Password protected
127 function blocks
Intermediate relays
Timer instructions up to Year 2099
6 In + 4 Out, or 12 In + 8 Out
SCROLL DOWN & SELECT PART NUMBER
Purchase items here
QTY

*

PART No.
DESCRIPTION
Additional Information
Time range: 0.01s - 99.99hr
Counting values: 1 - 999 999
System timer back up: 100hr
The Comat BoxX can be programmed by PC or with the snap-on LCD display with integrated function keys. It is possible to modify time intervals of the function blocks in the existing control program on site directly on installation. The LCD display can be connected to the Comat BoxX to visualize conditions or may be removed (without voltage) and used on another Comat BoxX.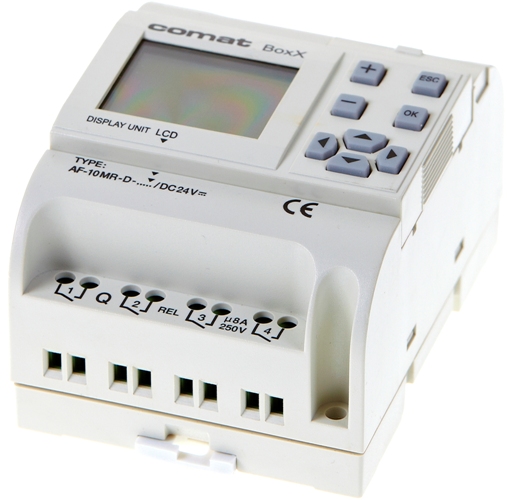 Programming software
The programming software QUICK II allows easy and transparent programming of the Comat BoxX with a PC. QUICK II is based on Windows®. 127 function blocks can be stored inside the program memory of the Comat BoxX. Stored programs cannot be lost even during a power loss. Therefore back up batteries are not needed. With the simulation tool, the set up can be tested on the PC before commissioning.
Programming the function blocks
Control tasks can be solved easily with the function blocks available in the library. Programming codes in a highlevel program language are not required. Simply place the corresponding function blocks and link them with other function blocks according to the required control function.
Analogue inputs
The 24 V versions of the Comat BoxX can also process analogue input signals 0…10 V with increments of 0.1V. All inputs can be used or configured at random as analogue or digital inputs. Function blocks for the comparison of analogue values are available, i.e. to monitor temperature in a heating system.
Voice and remote module
The voice module allows the playing of messages through either the builtin or external loud speakers. The voice module also replays phone calls or dials phone numbers to send emergency or status messages. Messages are recorded directly over the built-in microphone or are transferred as* wav files directly from the PC.
Product options
Power supply: 110 - 240V AC, or 24V DC
Inputs: 110 - 240V AC, or 24V DC / 0-10V analogue (selectable on 24V product)
Outputs: electro-mechanical relays, 8A N/O contacts, or solid-state transistor PNP 2A 24V DC outputs.
Accessories
Voice and remote unit
Programming cables
Bridge connector
Audio cable
Power supply
Serial converter
LCD display with function keys
Cover (instead of LCD)
Program CD-ROM